iOS + Android | Ecommerce
A An esteemed component company of the S&P 500 (NYSE: PNR) with more than 10,000 employees worldwide, Pentair is a global leader in water treatment. Pelican Water, one of Pentair's largest residential brands, approached Markethon with a mission-critical ecommerce project.
Pelican Water asked to build a mobile app to help its residential customers quickly scan and ID their products, access pertinent videos and other user resources, and purchase water filters and accessories.
In order to make the app user-friendly and approachable, we built NFC (near field communication) scanner capabilities into the app, so that the app could easily identify the exact product the user had purchased and automatically offer curated videos, FAQs, manuals, accessories for purchase, and other resources.
Because this scanner feature was so critical to supporting Pelican Water customers, Pelican Water requested that we deploy an early version of the app, with just the ability to scan NFC tags. So, we quickly developed a working proof-of-concept and deployed it to the App Store.
Our teams then moved into the design and development of the ecommerce portion of the app. Because Pelican Water already had an ecommerce website, our backend developers were able to piggy-back onto an existing (and very robust) product database. With some back and forth with the Pelican Water technical leads, our team quickly integrated the mobile ecommerce front end with the existing backend and performed automated and manual QA testing to ensure an excellent user experience. Development time was kept to a minimum because our developers opted to stay with the existing ecommerce system's PHP framework, minimizing the amount of recoding needed.
Finally, we incorporated mobile pay options with Apple Pay and Google Pay to make mobile ordering as frictionless as possible.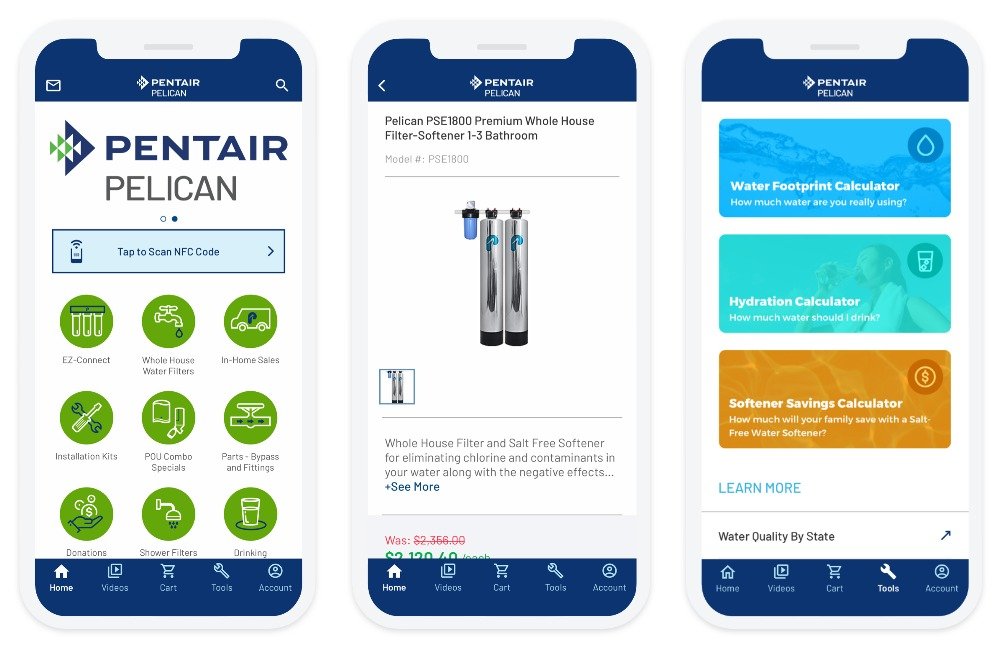 Since deploying the mobile app, Pelican Water has seen significant increases to average order size (AOS) and order frequency (or repeat purchasing). Customers have gravitated to the easy mobile pay options to replenish their filters, and user feedback has been refreshingly pristine.